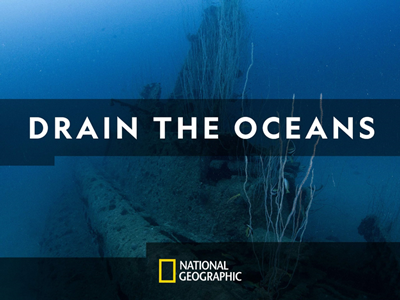 At 9pm PST on Monday, August 9th, join QI associate research scientist Dominique Rissolo and National Geographic TV on a dive into an underwater cave full of Ice Age fossils. Rissolo and his colleagues have studied the fossils for years to learn about what life was like for the earliest Americans, and the animals that roamed the land beside them. It's all on next week's episode of "Drain the Oceans" from National Geographic Channel.

Hoyo Negro is a project of the Subdirección de Arqueología Subacuática del Instituto Nacional de Antropología e Historia
The cenotes and underwater cave systems of the Yucatan Peninsula are emerging as one of the most promising frontiers for Paleoamerican studies. Following the end of the last glacial maximum, rising sea levels flooded the region's maze of underground passageways and preserved a diverse Late Pleistocene fossil assemblage. A female human skeleton, named "Naia," found in spatial association with the remains of now-extinct fauna in the submerged subterranean pit of Hoyo Negro presents a unique opportunity for interdisciplinary Paleoamerican and paleoenvironmental research in Quintana Roo, Mexico. At 13,000-12,000 years BP, the young woman's skeleton represents the oldest nearly complete individual yet found in the Americas.
LEARN MORE
PARTNERS AND SUPPORTERS
Subdireccion de Arqueologia Subacuatica, INAH
Centro INAH Quintana Roo
Seccion de Restauracion del Centro INAH Campeche
Museo Nacional de Antropologia
Universidad Autonoma de Yucatan
Universidad Nacional Autonoma de Mexico
Cultural Heritage Engineering Initiative, UC San Diego
Jacobs School of Engineering, UC San Diego
Qualcomm Institute, UC San Diego
East Tennessee State University
Northwestern University
McMaster University
MedVizi, LLC
Bay Area Underwater Explorers
CINDAQ

National Geographic Society, Expeditions Council
DirectAMS
Brian Strauss and the Strauss Family Fund
Natural Sciences and Engineering Research Council of Canada
Archaeological Institute of America
Waitt Foundation
Anders Family Foundation
Zero Gravity Dive Center
Acuatic Tulum Dive Center
ProTec Dive Center
Halcyon Dive Systems
Bone Clones, Inc.
Marcia Kirby and Akumal Direct

Elizabeth and Steven Bluhm
James Connor
Nikolaos Dunbar
William Halligan
Susan Harris
Glenn Kawasaki
Charlie and Jackie Mann
Ann Pinsky
Megan Richards
Nancy Sorensen
Peter Way
Tom Wolken

SPECIAL THANKS
Katia Andreassi
Mark Bauman
Scott Blair
Adrienne Bolli
Leanne Chukoskie
Francis Cordero
Tiffany Fox
Ana Galicia
Terry Garcia
Joaquin Garcia Barcena
Evan Hadingham
Corly Huang
Gibran Huerta
Jared Lipworth
Robert Lourie
Rebecca Martin
Adriana Velazquez Morlet
Trent Simmons
Graham Townsley